Step 1
In a small bowl, combine the Redpath® Demerara Style Sugar, Redpath® Granulated Sugar and Redpath® Turbinado Sugar with ground ginger, cinnamon, cardamom, cloves, nutmeg, allspice, salt and black pepper until well blended.
Step 2
Spread half of the sugar mixture onto the work surface. Lightly brush the top of the puff pastry with the melted butter. Place the buttered side of the rolled out puff pastry onto the sugar-spice mixture. With a rolling pin, lightly roll the pastry onto the sugar mixture, this will coat and embed the underside with the sugar and spices.
Step 3
Lightly brush the top of the puff pastry with the remaining melted butter. Sprinkle the remaining sugar-spice mixture over the butter as evenly as possible, patting the sugar into the dough.
Step 4
With the shorter side of the pastry, facing the edge of the work surface, mark the middle (6.5 inches/16.5 centimetres) of the shorter end. Fold both the left and right edges halfway towards the marked point then fold again, towards the marked middle. Fold in half, like a book. Place the "roll" onto the prepared baking sheet, cover with plastic wrap and place into the fridge to chill and firm up; about 30 minutes.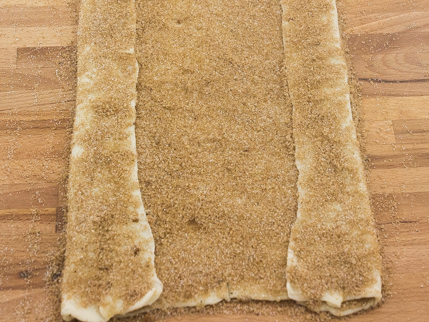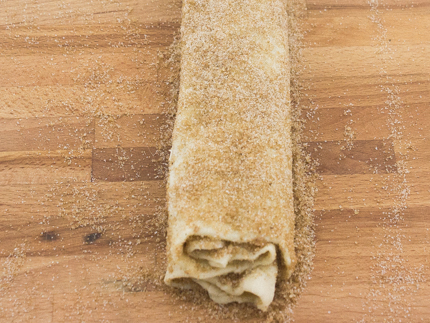 Step 5
With a sharp knife, slice the puff pastry into ½ inch (13 millimetre) slices. Lay them on the prepared baking sheet, about 2 inches (5 centimetres) apart.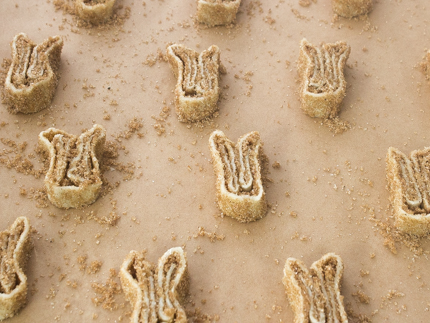 Step 6
Bake for 6 to 8 minutes, or until the sugar is caramelized on the bottom. Remove from the oven, with the help of a spatula, carefully flip each cookie over to caramelize the other side. Place back into the oven and bake; 2 to 3 minutes. Remove from oven and allow to cool slightly on the pan before transferring to a wire cooling rack to cool completely.