Step 1
Cut butter into small cubes. Set aside ¼ cup (57 g) of butter and place the remainder into the freezer until almost frozen; about 15 minutes. Measure out 1 cup (240 ml) of water, and place into fridge while butter is in the freezer.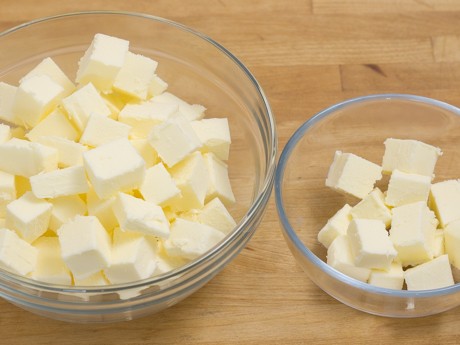 Step 2
In the bowl of a food processor fitted with a metal blade, blend together flour, Redpath® Granulated Sugar, and salt. Add the ¼ cup (57 g) of butter and pulse until butter coats the flour mixture and is no longer visible.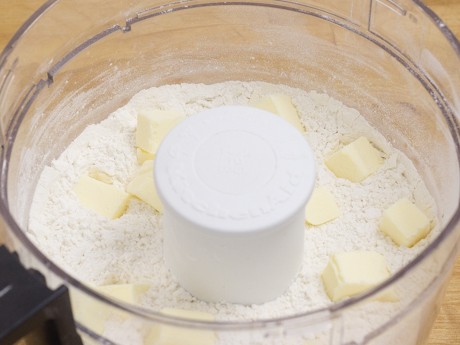 Step 3
Add the chilled butter. Pulse 3 or 4 times; there should be varying sizes of butter remaining. Drizzle in half of the cold water, pulse 2 times. Add the remainder of the water, and pulse 2 times more times.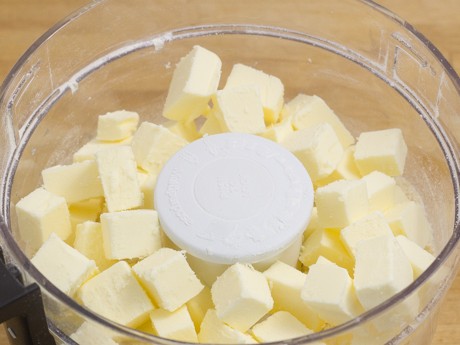 Step 4
Lay the flour mixture onto a piece of parchment paper. Working quickly, bring dough together with hands. Roughly form into a large "log". Pat the "log" down and form into a rectangle. With the shorter end facing the edge of the work surface, place a second sheet of parchment paper over the dough.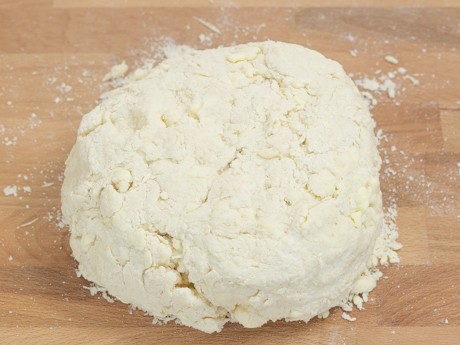 Step 5
With a rolling pin, gently press down dough. Move the rolling pin from the dough's edge farthest away from the work surface's edge and place it next to the indentation made. Move and press the rolling pin until it reaches dough closest to the work surface. Peel the top parchment off the surface of the dough to ensure dough is not sticking. If the dough is sticking, lightly flour the areas of the dough that are sticking. Place the parchment back onto the dough and roll out to a 16 x 20 inches (40 x 50 centimetres) rectangle.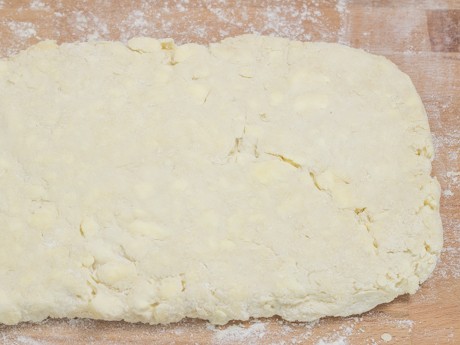 Step 6
Gently peel off the parchment paper. The long edge should be parallel to the edge of the work surface. Fold the dough into thirds; fold the top edge (furthest away from the edge of the work surface) a third of the way down, and fold the bottom edge up (and over the first fold). The rectangle should now be approximately 4 x 20 inches (10 x 50 centimetres).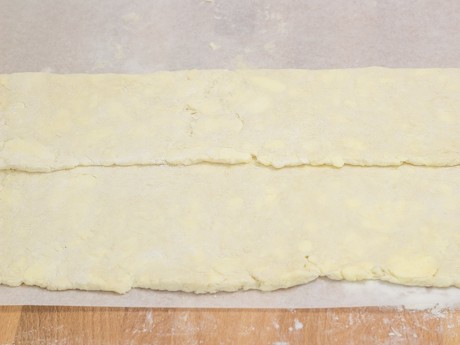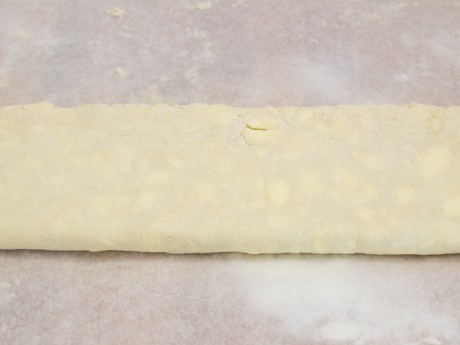 Step 7
Working quickly, roll up the dough (like a pinwheel) from one of the shorter sides (4 inches – 10 centimetre) and ensure that the short edge is under the dough. Gently press the dough down to form a square. With the rolling pin and with a little pressure, roll the surface of the dough to even it all out. Wrap the square of puff pastry with plastic wrap, and allow the dough to rest in the fridge for at least an hour before using.