Step 1
Preheat oven to 375°F (190°C). Lightly grease the bottoms and sides of a 9 x 9 inch baking pan.
Step 2
In the bowl of a stand mixer, use a whisk, and whisk together the mix the flour, yeast, and salt until thoroughly combined.
Step 3
In a microwaveable bowl or large measuring cup, heat buttermilk and butter together until a thermometer reads 120 to 130°F (49 to 54°C). Whisk in the Redpath® Golden Yellow Sugar until sugar is dissolved. Stir in the vanilla extract.
Step 4
Pour the buttermilk mixture into the dry ingredients. Using the hook attachment, mix until a smooth dough forms and pulls away from the bowl. Cover bowl and let dough rest for 10 minutes before proceeding.
Step 5
Divide dough into 12 equal portions.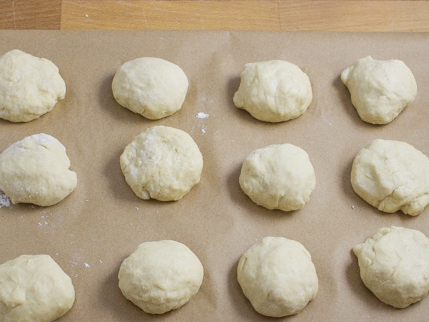 Step 6
Round into balls and place into the greased baking pan. Cover with plastic wrap that has been lightly greased. Place rolls in a warm, draft-free location to double in size; about 45 minutes to an hour.
Step 7
Whisk together the egg and water.
Step 8
In a small bowl, combine the Redpath® Golden Yellow Sugar with the cinnamon until well blended.
Step 9
With a pastry brush, lightly brush the tops with the egg wash and evenly sprinkle the tops with the sugar mixture.
Step 10
Place into the preheated oven. Bake for 30 to 35 minutes until golden in colour.
Step 11
Remove from oven, let cool slightly before removing from pan. Serve immediately.