Step 1
Preheat oven to 375°F (190°C). Line a large baking sheet with parchment paper or aluminum foil.
Step 2
Wash pumpkin, pierce all over with a fork and place in the oven on the prepared baking sheet; 30 minutes.
Step 3
Cut pumpkin in half and scoop out seeds and stringy flesh. Carefully peel each half and cut into ¾ inch (2 centimetre) cubes.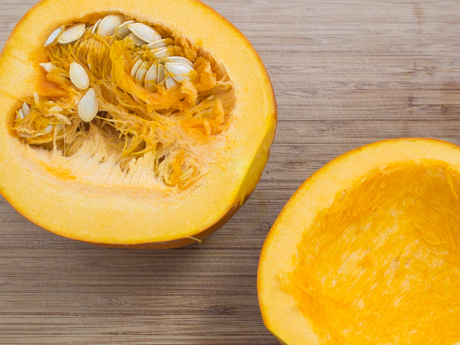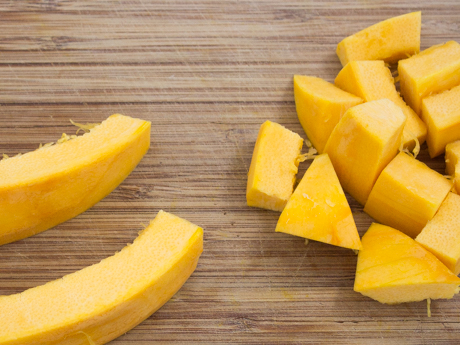 Step 4
Place pumpkin in a large bowl and toss with 1 tablespoon (15 millilitres) olive oil, ½ teaspoon (3 grams) salt, cinnamon, cardamom, pepper, cloves and nutmeg.
Step 5
Spread pumpkin in a single layer on the prepared baking sheet and roast for 15 minutes. Remove from oven and sprinkle evenly with the Redpath® Demerara Style Sugar. Return to the oven for 15 minutes. Remove and set aside to cool.
Step 6
Grease a 9 x 13 inch (23 x 33 centimetre) baking dish.
Step 7
Heat 1 tablespoon (15 millilitres) of olive oil in a skillet over medium heat. Add the onion, celery and garlic and cook until softened, about 8 minutes. Transfer mixture to a large bowl.
Step 8
Add the remaining 1 tablespoon (15 millilitres) of olive oil to the skillet and sautée the mushrooms with the sage and rosemary until golden and they release their juices.
Step 9
Transfer mushrooms to the bowl with the onion mixture. Add the cooled pumpkin, bread cubes and one cup (62 grams) of parmesan cheese. Toss well to combine and transfer to the prepared baking dish.
Step 10
In a separate large bowl whisk together the milk, cream and eggs. Pour over the bread pumpkin mixture. Cover dish tightly with aluminum foil and refrigerate for 1 hour.
Step 11
Lower oven to 350°F (180°C).
Step 12
Bake bread pudding covered; 45 minutes. Remove foil, sprinkle with remaining ¼ cup (16 g) of parmesan and bake uncovered; 15 minutes.
Step 13
Remove and allow to rest 10 minutes before serving.