Step 1
Preheat oven to 425ºF (218ºC). Line a muffin tin with paper liners.
Step 2
In a medium bowl whisk together the flour, Redpath® Golden Yellow Sugar, Redpath Granulated Sugar, baking powder, baking soda, salt, and ground nutmeg until well combined.
Step 3
In a large measuring cup, whisk together the buttermilk, melted butter, egg, orange zest, pure vanilla extract, and almond extract.
Step 4
Make a well in the dry ingredients. Pour the wet ingredients into the dry. With a rubber spatula, fold the mixture together, using as few strokes as possible, until just-combined.
Step 5
Fold in the blueberries.
Step 6
With a small ice cream scoop, fill each lined muffin well about ¾ full. Sprinkle the tops of the muffins with about a tablespoon of the crumble topping. Lightly pat the topping into the batter.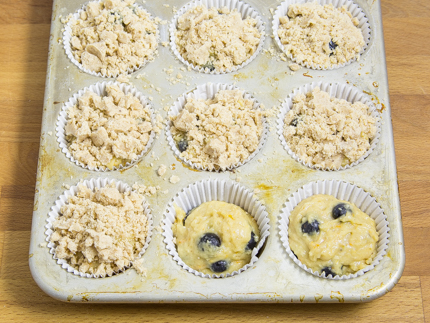 Step 7
Place into the preheated oven and bake for 10 minutes. Reduce temperature to 350ºF (177ºC). Bake for 10 to 15 minutes, or until a skewer inserted into the centre of a muffin comes out clean.
Step 8
Take out of the oven and allow to cool in the tin for about 5 minutes before removing from pan and placing onto a wire cooling rack to cool completely.