Step 1
Grease a 9 x 13 inch (23 x 33 cm) baking dish.
Step 2
Place bread and raspberries in prepared baking dish, gentle toss to combine.
Step 3
Place milk, cream, and remaining raspberries in a blender; blend until smooth. Add eggs,  Redpath® Granulated Sugar, vanilla extract, and salt to blender; blend until smooth. Pour mixture over bread and stir gently.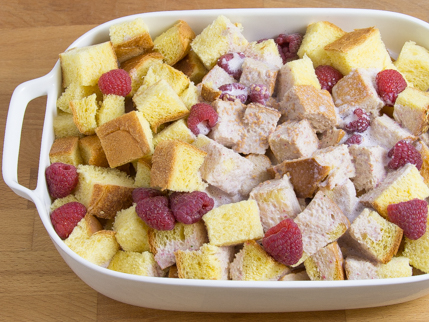 Step 4
Cover with foil and place in fridge for an hour, or overnight.
Step 5
Preheat oven to 400°F (200°C). Place bread pudding into preheated oven and bake covered for 30 minutes. Remove from oven. Remove foil and sprinkle top with Redpath® Demerara Sugar. Return to oven and bake for an additional 10-15 minutes or until pudding is set in the center and top is golden.
Step 6
Let cool for 10 minutes then serve with Raspberry Cream.
Step 7
Garnish with extra raspberries and icing sugar as desired.