Step 1
Lightly grease and line an 8-inch square pan (or a 9 x 5 inch loaf pan) with parchment paper, leaving a 2-inch overhang for easy unmolding.
Step 2
Place a heavy-bottomed saucepan over medium-low heat with the Redpath® Golden Yellow Sugar, Redpath® Granulated Sugar, milk and heavy cream. Stir constantly until mixture is completely dissolved, smooth, and with no "sandy" feel to it.
Step 3
Increase temperature to medium and stir until it just begins to boil. Do not stir at this point. Clip or insert a thermometer into the sugar mixture, making sure that the thermometer does not touch the bottom of the pan for an accurate reading. Cook the sugar mixture until it reaches between 235°F to 240°F (113°C to 116°C). This is the "soft ball stage" – a small amount of the mixture drizzled into a glass of cold water should form a ball. For firmer fudge bring the temperature closer to 240°F. Immediately remove from heat, being careful not to jostle the pan too much, and add the cubed butter, salt, and vanilla extract.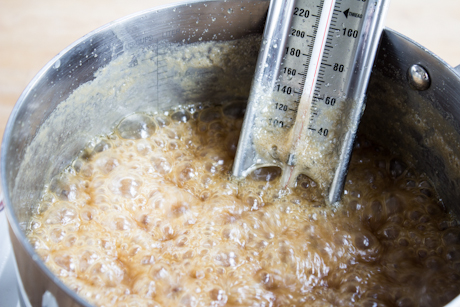 Step 4
Beat vigorously with a clean wooden spoon, large rubber spatula, or hand mixer (on low speed) until mixture begins to thicken and lose some of its shine. Once it thickens, becomes creamy in texture and appearance, and slightly loses its gloss, immediately transfer the mixture into the prepared pan, being careful not to scrape the sides of the pan where the sugar has hardened and crystallized. Smooth the top with a spatula.
Step 5
Leave the fudge to set and cool completely; several hours at room temperature or overnight.
Step 6
Using the parchment overhangs to help unmould the fudge, lift the cooled fudge from the pan and onto a cutting board. With a sharp chef's knife, cut into 1-inch pieces or desired size. Store in an airtight container between layers of parchment for up to 2 weeks at room temperature. If kept in the fridge, fudge will last for up to 3 weeks.