Step 1
Preheat oven to 350°F (177°C). Line two muffin tins with 16 paper liners.
Step 2
In a medium bowl, whisk together the flour, cocoa powder, baking powder, baking soda, cinnamon, and salt until no lumps remain
Step 3
In a small bowl, stir the water and espresso together until dissolved.
Step 4
In the bowl of a stand mixer using the paddle attachment, cream butter with the Redpath® Golden Yellow Sugar and Redpath® Granulated Sugar; 3 minutes.
Step 5
In a large measuring cup whisk together the milk, vegetable oil, eggs, espresso mixture, and the pure vanilla extract until combined.
Step 6
Add one third of the dry ingredients to the batter. On low speed, blend until just combined. Add in half of the milk mixture, blend until fully incorporated. Repeat process, ending with the dry ingredients; do not overmix.
Step 7
With the help of an ice cream scoop, fill each liner ¾ full. Place the filled tin into the preheated oven. Bake for 15 to 20 minutes, or until a skewer comes out clean when inserted into the centre of one of the cupcakes.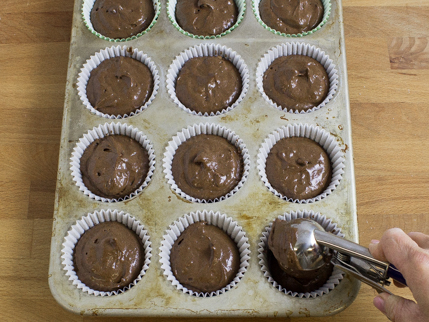 Step 8
Allow cupcakes to cool slightly in the pan; 5 minutes. Place cupcakes onto a wire cooling rack to cool completely.